Sprinkler Systems
Put our 20 years experience installing hundreds of sprinkler systems to work for you.
"We wanted to take this opportunity to thank you for the excellent service your company provides. Our yard always looks perfect when you are done. You are very thorough and always go the extra mile. Thanks again."
- Paul and Mary, Kalamazoo, MI
A beautiful yard and landscape is almost impossible to build & maintain without a quality sprinkler system, and it's critical to have a sprinkler system that is properly designed. An improper design can be more damaging and wasteful due to inefficient and uneven coverage. Just because it appears to be throwing water doesn't mean its doing its job properly. Water is one of our precious natural resources we don't want to take for granted.
At West Michigan Lawn Services we use the highest quality products and installation techniques. We use 40 full barb insert fittings with stainless steel worm drive clamps versus less secure steel clamps or crimp clamps. Steel clamps rust quickly and crimp clamps do a poor job of securing a tight fit. We use fully waterproof electrical 3M wire splice connectors. Lesser quality wire connectors promote corrosion and are one of the main reasons for system failure and service calls. We install a code appropriate back flow prevention device with copper pipe - not plastic PVC that is more susceptible to damage from being exposed above ground. Top quality yet no more costly than our competition.
During the quoting process we need a bit of specific information: What is the water source (city meter, well, lake or pump system) and its capacity? What areas of the yard need to be watered (turf, landscape and/or garden areas)? When we meet with you we ask the right questions to design a quality & efficient sprinkler system for your specific requirements.
Our sprinkler system designs include not only head to head coverage but matched precipitation as well. The heads turning 90 degrees should be 1X (gallons per min) and the heads turning 180 degrees should be 2X, the heads turning 360 degrees should be 4X, and so on. At West Michigan Lawn Services we do not take short cuts by putting the same size nozzle in all the heads. This "short cut" technique would require stocking fewer parts, but we want our customers to have the best quality irrigation system. During dry hot months, poorly designed systems will show their true color and it's not always green.
One of the most important aspects, besides matched precipitation (even watering), is the design or layout and type of sprinkler heads used. Its not only important to water "evenly", but more importantly we help our customers utilize efficient water management practices through www.irrigation.org . You would not throw money out your window, so why "waste" water - a vital resource!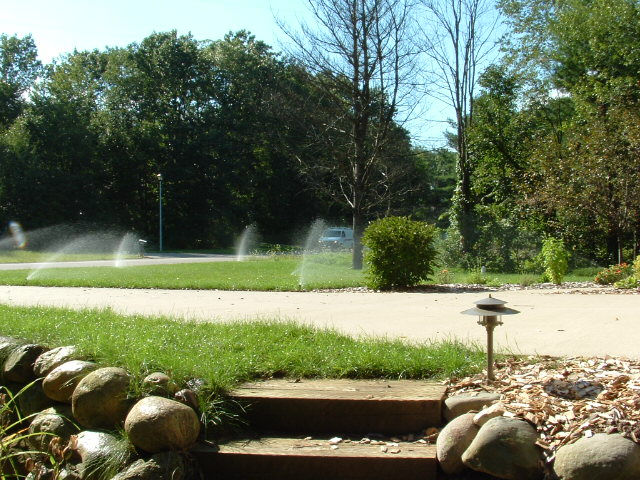 As a home owner we know you take pride in your investment inside and out. At West Michigan Lawn Services we pride ourselves on using the highest quality products along with our highly trained and experienced personnel to install a superior sprinkler system at a competitive price. West Michigan Lawn Services' sprinkler systems are designed to outlast and outperform the competition. With sprinkler and irrigation systems, you get what you pay for. You'll have to decide whether you want to pay for it now or pay for it later!
Please take a minute to contact our professionals at West Michigan Lawn Services today for a quote on a new sprinkler system.
Serving residential and commercial properties throughout Kalamazoo, Portage, Richland, Gull Lake, Texas Corners, Mattawan, Plainwell, Battle Creek, Augusta, and other communities in Kalamazoo County and Calhoun County, Michigan.
---